The Magic Continues ...
Session 3 - NOW also available in Audio MP3 download ! Only $25 CDN !! ( ~$20 US )
ONLINE STORE


… are YOU now ready to find the healing
that has been out your reach?

---
UNITY FIELD HEALING (UFH)
Unity Field Healing is a new energy based modality to support bio-spiritual transformation. It is a consciousness-based program that works through the axis of your spiritual or "Quantum DNA". It is intended to facilitate biophysical, emotional and mental transformation through recalibration with your spiritual DNA system. To read more about it development click here:
Origins of Unity Field Healing.
The work is performed first by bridging and strengthening the alignment with your own DNA axis and subsequently by the facilitation of "recalibration" using an interdimensional light pattern termed the Unity Field Template.
The work is provided in three distinct individual sessions:
Session 1
is entitled
"Self Attunement
". It is purposed to consciously develop & strengthen a restorative link with your spiritual DNA blueprint.
Session 2
is entitled
"Unity Field Healing - Template Attunement"
. It is purposed to attune you to working with a light template entitled the
Unity Field Healing Template
through your quantum DNA.
Session 3
is titled
"Unity Field Healing - Targeted Intentional Support".
It is intended to use the support of Unity Field Healing in an intention based way to help address specific issues that exist or arise as one progresses through consciousness and energy based healing and transformation.
These 'issues' may include any physical, emotional, psychological or relationship issue that may exist or surface during personal one's healing process.
The work was gifted through a series of visionary meditative experiences as describe in the section on the
Origins of Unity Field Healing.
Learn all about UFH at:http://www.drjohnryan.org/unity-field-healing.html
---
Sessions 1, 2 & 3 ALL now available in conveninent MP3 download.
ONLY $25 per session or $65 for all 3 sessions!
To ORDER your sessions,
CLICK HERE.
---







"'I am so grateful for the transformation that I have been able to achieve with the experience of UFH with Dr. John. I now feel deeply integrated with a part of myself I knew existed, that I now feel rooted in; my spiritual DNA. This work is truly amazing, I am in awe! Thank you Dr. John!" Leslie Z.

" I have worked with many energy and healing modalities, but nothing prepared me for the power of this work. AMAZING"

"I could so strongly feel the healing energy while listening to these audios - AMAZING and THANK YOU!"

"Your voice is so clear and supportive John - what a gift this work is! Truly remarkable!"

"I can not believe how relaxed I became listening to these sessions - a true and profound healing space!"




---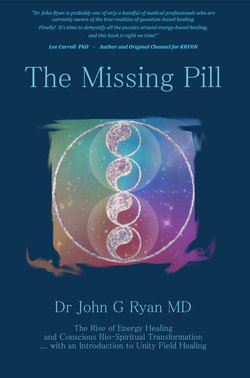 A Must READ Book on Healing !!
The Missing Pill
___
Dr John Ryan is one of a handful of medical professionals who are currently aware of the true realities of quantum based healing. Finally it's time to demystify all the puzzles around energy based healing, and this book is right on time.

LEE CARROLL Ph.D
AUTHOR & Original channel for KRYON

"An impressive primer on the role of energy
and consciousness in the physical world and human healing."

KIRKUS REVIEWS


---
PURCHASE AT:

---