Dr John Ryan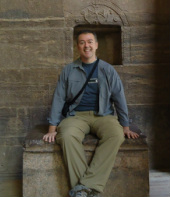 John is a medical doctor who has worked in both traditional medicine, end energy based healing practices, for over twenty years. He has a deep interest in ancient and modern spiritually - and the integration of energy and consciousness based healing practices. His particular interest is in the emerging healing potentials of the "new earth".
John is the founder of
Unity Field Healing
.
This is a new energy process developed in 2012 through a series of meditative visionary experiences. This work is intended to facilitate healing and spiritual integration. It operates through a quantum energy process, and the use of a quantum light template, to facilitate alignment, integration and recalibration of our quantum or spiritual DNA.
John has recently authored a forthcoming book, available in late 2013, entitled
The MIssing Pill
. This book will examine the rise of energy based healing in medicine, the energy and consciousness based nature of life, personal healing, and conscious biospiritual transformation.
---