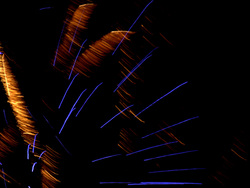 And So Begins 2014!

An auspicious year begins with a new moon on January 1st - a super moon in fact - representing a potent time of creativity.
( For INFO: http://earthsky.org/space/what-is-a-supermoon )

For many, the end of 2103 comes with little dismay for it has been a year of turbulence and transformation for so many people, and the planet! It has been a great teacher of patience and balance! But as we see the first waves of 2104 settle upon the shores of time, we are in for an energetic reprieve. This promises to be a year of change, but more in the form of celebration and restitution than chaos. It is time to awaken the power of spirit within each of our hearts! Yes, the hallelujah echoes loud and clear : )

There is no time like the present to put your creative ducks in row. This is not the time to think of overcoming obstacles. It is a time to empower your creative reverie - a force which can dismantle obstacles simply through the power of presence. As you begin the new year, take a little time to infuse energy into what you want your life, and life on the planet, to be. Perhaps, rather than resolutions, make a commitment this year to explore the manifestation of love that you are in your soul. Nurture your life with encouragement, wisdom, kindness, patience, honour, compassion, and faith. Engage in the "simple" act of letting go of the power drains or worry, judgment, guilt, defensiveness and shame. Let us all live more authentically and peacefully together - as we take our first steps together in year TWO of the awakening world!

Let the power of this creative impulse energize your path - so any obstacles are dismantled through the power of your dreams.

A very happy, invigorating, spirit-inspired and transformative new year to all!