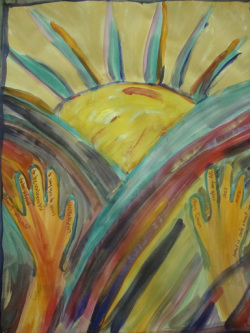 Another Thanksgiving day season has come and gone. To me this has alway been a special holiday season - for in spirit it transcends the boundary of all religious belief and pierces right the heart of good living - a space of conscious gratitude.

It is important to stop and to take time for all the good things and events each one of us encounters, the things which nurture us on the path of life and growth … simple to celebrate the blessings. Our friendships, family, pets, work, the earth, experiences and all forms of nurturance make a long and noble list. It is also wise to celebrate the challenges we face that are mysteriously propelling us strengthen and grow.

However, as fruitful as it is to stop and celebrate in gratefulness there is no need to limit the power of gratitude to a single celebration! As the sun sets on this season, perhaps it worthy to stop and hold on to the best of the thanksgiving season.

The way we habitually think, feel and choose - holds a powerful creative matrix in which we live our lives. To spend time each day in place of gratitude we are building a powerful atmosphere - a space, or energetic environment, that surrounds us and serve as a fertile and magnetic field of attraction that provides the foundation on which we nurture our lives.

Understanding that to live in a space of gratitude is perhaps one of the most powerful conscious adjustments a person can make to create health, abundance, joy and beauty in their life - why restrict it to a short time of honour? Why not make it a way of life! Let us all commit to living each day this year to remember the power of gratitude.

Today I am grateful to have this moment to share with you, for the beauty and creative magic you bring to the planet and to the lives of all those around you. May you be blessed a thousand times so that your life is rich with conscious joy and abundant blessing. May it support this foundation, so you may continue to bring all the love that you do to the lives of those around you, and fill your life with the miracles of this alchemical magic! Happy, endless thanksgiving!