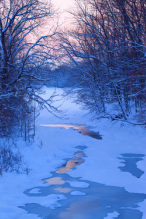 As I sit here watching the temperature drop from 36 to 0 degrees farenheit, I am amazed how quickly the sounds of melting snow and running streams of water transform, almost instantly, into panes of ice. The melting softness turns crisp and solid. The world seems almost to cease in the stillness. It is a sweeping transformation .

A moment of natural magic, it is symbolic in some way to what is happening to many people in their life in this time. People are slowing a little, and turning inward to take time to examine their lives and reality, past and future - form the stillness of the present moment. There is an awareness of great change, but to many no clear beacon of direction - so it is a time to pause.

As we each take time in our personal space, we receive impulses or awarenesses - like gentle whispers from the soul. They are there to support us and encourage us forward in the next initiative or inspiration. The guidance we need can make its way through the cacophony of thoughts and emotions that make up a busy life. It pierces into our awareness like a ray of light.

This illuminates a new direction and energizes the spirit to move forward in time. Yet as we grow and take on new endeavours, we also begin to release old ones. Old commitments, sometimes relationships or friendships, jobs or projects - those that are due to refresh, will take a natural course in time. It seems that somehow we birth, by also letting go.

We must find our personal rhythm. We can honour the flow that aligns us with our spirit, as we journey through changes in our personal worlds. It is important to honour - without holding on to - all that is passing away or changing . These experiences, in all the highs and lows they may contain, are the stepping stones that have brought each of us to this point of time.

Enjoy the stillness of the season, the freshness of the pause. Make peace with what fades behind you, and let your journey be light. Let spirit fill you with the intrigue of what awaits you mysteriously over the horizon. It will guide your steps, inspire your drive, carve your path, flutter your intuition and bring synchrony alive. The spirit within you will show you where you are going, even if you do not have a clue.

Listen in stillness, and watch life unfold around you, with eyes and the wonder of a child ...

Happy transitions !